Contact
Home

Festival On The Green 2016
Events and times are subject to change

Saturday
Events running through the day
Fun, games, activities for kids with Friends of St Botolph School

Bungee trampoline, inflatables,
Walk-on-Water, games and rides

Classic car and bike show

Peterborough Model Engineers' train

Exotic animals from the Herpetological Society

Stanground Fire Engine

High quality craft and food stalls

Snacks and festival food from local suppliers

Pop-up Beer Garden and Festival Bar

Visit the pond and try pond dipping

Raffle tickets on sale -
lots of lovely hampers and


star prize 43" LG Full HD TV
Saturday
Palmerston Ukulele band
Official Opening
Laurie Fisher
Chloe Hebden School of Dance
Danzfusion
Hereward Harmony
Evolution TaeKwonDo
Palmerston Ukulele band
Phoenix Gymnastics
Family Dog Show
EVENING IN THE MARQUEE
Doors Open
Live Football
Disco
12.00
12.30
12.45
13.00
13.25
14.00
14.30
15.00
15.40
16.00
19.00
20.00
Come along to hear the delightful Palmerston Ukulele Band for a fantastic opening to the festival
With Cllr Graham Casey
Music from Laurie
Entertainment from our wonderful local dancers
Exciting street dance troupe
Great entertainment from Peterborough's premier male voice choir
Based at their studio on Shrewsbury Avenue, the team will do their action-filled demonstration - one of our most popular demonstration events every year
A second chance to hear their infectious music-making
The Gymnastics Academy will show their skills and give a flavour of the classes on offer for all abilities - for children from 4 years old
Prizes and rosettes for winners and trophy for best in show.
Enjoy a drink at the festival bar
UEFA Euro 2016 ENGLAND v RUSSIA (TICKET ENTRY)
Until 23.00
Sunday
Events running through the day
Fun, games, activities and
entertainment for kids -
bungee trampoline, inflatables,
Walk-on-Water, games and rides

Classic car and bike show

High quality craft and food stalls

Snacks and festival food from local suppliers

Pop-up Beer Garden and Festival Bar

Raffle tickets on sale -
lots of lovely hampers and


star prize 43" LG Full HD TV
Sunday
Sunday Service
Living History and Listening
Project
The Big Botolph Lunch
Shades of Green
"Botolph's Got Talent"
Baking Competition Prizes
Raffle Prize Draw
Festival Closes
10.00
11.30
13.00
13.30 -
16-00
From
13.30
14.00
16.00
17.00
Led by Rev Sid Bridges, Assistant Curate to the Ortons
A theatre and real life experience with Peterborough Creative Action
A royal celebration lunch in the marquee
Live music from a local band playing and singing popular and well known Country, Irish and Rock & Roll music
If you can sing or dance or perform, here's your chance to get on stage and show what you can do. Book your slot from the link on the Home page
Prizes for the first 3 in each class for royal-themed cakes
Raffle will be drawn by Councillor Lucia Serluca.
Lovely hampers to be won and a star prize of a 43" HD LG TV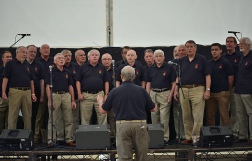 Friday
Snail Racing
The Claimed
Fun and excitement for all the family with our cartoon snails
Live music from a great local band